Lapland (Sweden)

Stockholm
17,841 holiday homes
to find on our portal
99% of our holiday guests
recommend their holiday home
57,261 Reviews
help you to make your choice
More than 40 million holiday guests
trust us every year
Holiday in Sweden
64 holiday houses in Sweden are presented on this site, from Scania via Småland up to Lapland. Spend a lakeside holiday, watch moose and reindeers!
Holiday regions in Sweden
Småland
Västergötland
Halland
Blekinge
Offers in Sweden
Here you can find 75 last-minute offers for holiday houses in Sweden.
Discover 84 affordable special offers for holiday houses in Sweden from private individuals.
Popular regions and cities
Map Sweden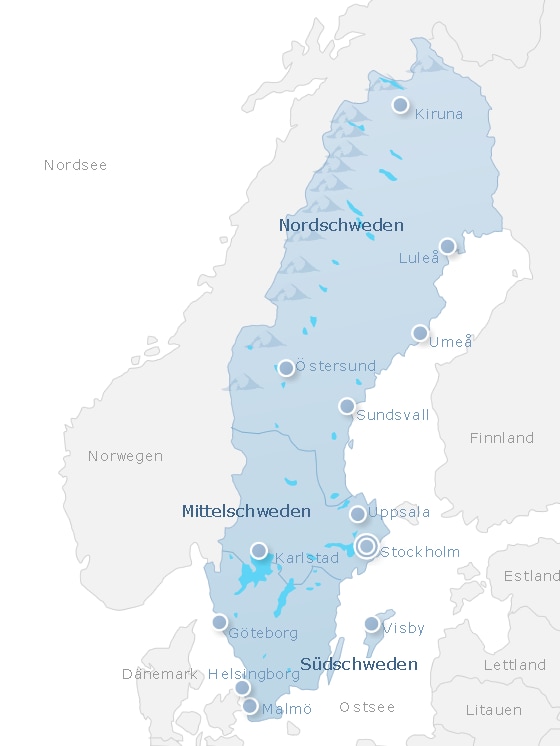 Are you renting out a holiday home?
Rent out your holiday home
Successfully advertise your holiday home in Sweden
Our holiday guest's experiences
Vacation apartments in Sweden low priced by private
Not only the moose feel well in Sweden but also almost every visitor. If you decide for a holiday house in Småland, you will be amazed by the picturesque landscape. In the area around the lovely town of Vimmerby, some of the stories by Astrid Lindgren took place - stories that are childhood memories for most of us. A lakeside holiday in Sweden is a special experience particularly for families, make a trip to Bullerby or Lönneberga.

But Sweden offers more than "just" 100,000 lakes. The Scandinavian winter makes the country a true paradise for winter sports, skiing in Värmland or Dalarna are a beautiful option to the crowded skiing areas in other holiday countries. Holiday houses on Gotland are recommended for a holiday by the sea, its picturesque capital Visby is worth a trip. Without a doubt, Sweden's towns are at least as beautiful as its landscape, city trips to Stockholm won't disappoint anyone.