Holiday apartment "ALICIAMIN"
in holiday region Fuerteventura
Amenities
max. 2 persons
45 m²
1 bedroom
Smoking permitted

Pets not allowed, Dogs allowed

not fully accessible Holiday apartment
The Holiday apartment
Fantastic position!! To the white sand beach there is only 3 minutes to foot. From the 20m² large Terasse you enjoy the total view on the sea (180°) and the Costa Calma.
The vacation apartment is 2003 building living rooms with Sat TV, stereoanlage, openly arranged to the kitchen range with Einbaukueche.1 bedroom with a double bed, a large wardrobe and two night table of the living room out enjoys you again the beautiful Sonnenaufgaenge.Im daylight bath is a shower, WC and a wash basin. Are contained in the price: Water river and garbage costs. Bedlinen and towels are sufficient present.
Special features
Mad photos with one click on homepage (completely down). Please you avoid a smoking in the Fewo and shift it on the Terasse. If you would like to already have something with your arrival in the refrigerator, send me please your purchase desire by e-May!
Rooms and amenities
Max. 2

persons

45

m²

Smoking permitted
permitted
not fully accessible
kitchen
freezing compartment
kettle
oven
refrigerator
tea towels
bathroom
hair dryer
shower
toilet
towels
wash basin
living / dining room
terrace
garden furniture
sun loungers
Suited for
allergic
Family travel
handicapped (on request)
Holiday with your baby
Holiday with your dog
long-term holiday (on request)
senior citizens
Location and surroundings
Costa Calma will surround by a broad green belt from palms as well as tropical trees and the blue Atlantic. Restaurants, Bars and purchase possibilities are all to foot too erreichen.Ausserdem wrongly in the whole place favorable Pendelbus.Die bus stop for all penalty are directly before entry door after well 5 the cars min. arrive one at the animal and plant park wonderful put on "Oasis" in La Lajita.Costa Calma are because of the narrowest place of the island and in such a way are it only 6km to the somewhat wilder west coast.
Holiday apartment "ALICIAMIN"
Mr. Georg Feuchtmann
Phone: +49 (0)176 - 48072203
Puerto del Rossario

Sights
Sights
Puerto del Rossario

Sights

Distance: 60 km
Distances are given as the crow flies
Holiday apartment "ALICIAMIN" Street View 35627 Costa Calma
Leisure time tips Fuerteventura
Our leisure time tips:
badminton
bike rental
biking/ cycling
fishing
golf
gym
hiking
horseback riding
jogging
miniature golf
scuba diving
swimming
tennis
water sports
windsurfing
Further activities
That offers the largest leisure fun endlessly long gold-yellow sand beach (27km). To the golf course wonderful put on only 5km are to be driven. ....Mehr to sea with click on homepage completely down....
Distances
(Railway station, Airport…)
airport 60 km
beach 300 m
bus stop 150 m
ferry port 25 km
night life 150 m
restaurant 150 m
shops 150 m
Location
Prices
Note: The price of 1st night / week includes a final cleaning fee of 65.- EUR.
Valid per property / With an occupancy up to 2 persons.
Travel Date
Minimum Stay
1st night
from 2nd night
1st week
from 2nd week
01/01/2013 - 31/12/2013


all-the-year

7 nights
115.- EUR
50.- EUR
--
--
Additional Costs
Final cleaning
included in rental price
Renting Conditions
no rental deposit
Total payment 4 weeks prior to arrival
Arrival day: every day, earliest arrival at: on agreement
Departure not later than: on agreement
Payment Methods
Availability Calendar - Holiday apartment "ALICIAMIN"
May 2013
Mo
Tu
We
Th
Fr
Sa
Su
1
2
3
4
5
6
7
8
9
10
11
12
13
14
15
16
17
18
19
20
21
22
23
24
25
26
27
28
29
30
31
June 2013
Mo
Tu
We
Th
Fr
Sa
Su
1
2
3
4
5
6
7
8
9
10
11
12
13
14
15
16
17
18
19
20
21
22
23
24
25
26
27
28
29
30
July 2013
Mo
Tu
We
Th
Fr
Sa
Su
1
2
3
4
5
6
7
8
9
10
11
12
13
14
15
16
17
18
19
20
21
22
23
24
25
26
27
28
29
30
31
August 2013
Mo
Tu
We
Th
Fr
Sa
Su
1
2
3
4
5
6
7
8
9
10
11
12
13
14
15
16
17
18
19
20
21
22
23
24
25
26
27
28
29
30
31
Last updated: 10/05/2013
Contact - Mr. Georg Feuchtmann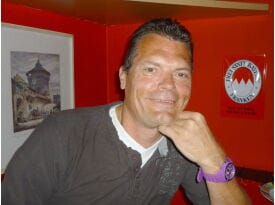 Enquiry and contact data of the landlord
Your landlord - Mr. Georg Feuchtmann
We speak German
Phone number of the landlord
Listing number 3019 on Vacation-Apartments.com

Phone (mobile):

+49 (0)176 - 48072203

Fax:

+49 (0)6150 - 542009
The Holiday apartment has 4 ratings
Urlaub Dezember 2007

01/01/2008

by

Bärbel Baersch

from 47906 Kempen

Total Rating:

4.0

Amenities:

4

Price/Performance:

4

Service:

4

Surroundings:

4

Die Ferienwohnung hält das was sie verspricht.
Ein großer Spar Supermarkt, Restaurants und das Meer sind ca. 3 Gehminuten entfernt.
Nicht so gut gefallen hat uns, daß das Schlafzimmer zur Straße liegt und das es leider keine Mückengitter gibt.


5 of 10 persons think this rating is helpful

Wirklich ein Traum

03/12/2005

by

georgFeuchtmann

from Darmstadt

Total Rating:

5.0

Amenities:

5

Price/Performance:

5

Service:

5

Surroundings:

5

Kröber 18.05.2005 19:20

Wir haben schon wieder einen wünderschönen Urlaub auf unserer Lieblingsinsel Fuerteventura gehabt. Die Wohnung ist sehr schön und liegt optimal. Der Meeresblick ist einfach umwerfend... Wir können es nur weiter empfehlen.
Herzlichen Dank.
Kröber



3 of 7 persons think this rating is helpful

Eben ein Traum

17/11/2005

by

Fam Möbus

from Darmstadt

Total Rating:

5.0

Amenities:

5

Price/Performance:

5

Service:

5

Surroundings:

5

Hallo Fam. Feuchtmann
wir hatten einen super schönen und entspannten Urlaub. Nach vielen anderen von uns beurlaubten Ländern, steht Fuerte und Costa Calma bei uns auf Platz 1 !
Es gibt nichts schöneres als ein Frühstück mit Sonnenschein und Meerblick. Die FeWo ist liebevoll eingerichtet, gemütlich und sauber.
Vielen Dank - für diesen TRAUMURLAUB
MfG Manfred & Nicole

5 of 8 persons think this rating is helpful

Ganz klasse

17/11/2005

by

Dieter

from Lippe

Total Rating:

5.0

Amenities:

5

Price/Performance:

5

Service:

5

Surroundings:

5

Hallo,
wir haben 2 tolle Wochen in dem Apartement verbracht. Alles war super. Die Aussicht vom Balkon spitze. Die geschmackvolle Einrichtung hat uns sehr gut gefallen. Ein Lob an Familie Feuchtmann.
Wir kommen bestimmt wieder.
Viele Grüße aus Lippe

4 of 7 persons think this rating is helpful