Holiday house Mrs. Gisela Brettschneider
in holiday region Mosteiros
Amenities
max. 3 persons
32 m²
2 bedrooms
Non-smokers only Holiday house

Pets upon request

not fully accessible Holiday house

Wi-Fi available

Pool available
Prices
from 55.- EUR per Night
from 385.- EUR per Week
Contact
Ms. Gisela Brettschneider
The Holiday house
Comfortable Leisure-Home (made in U.K.) for 2-3 person, in the nature reserve above Mosteiros. Only 60 m away from the Atlantic and only 90 m sealevel. That guarantees most sun and lowest moisture.

Carpark directly by the house, no dragging luggage. Comfortable upholstered furniture in livingroom and dinette. All rooms on one level. No stairs and ladders.

Gasfireplace, electric heating and ventilation against humidity for a healthy enviroment without mold and rot. The glazed veranda gives you a direct ocean view to the famous cliffs of Mosteiros, from all seats.

Enjoy this sight with a glas of wine on the terrace, watching the unforgettable sunset....and you will understand the meaning of living in the first line. The shown pictures are originals.
Special features
Airport transfers are free.Refrigerator
contains the firs supply. Per day and person 1 l.mineral-water.Parking with
turn option by the house.Terrace with chairs,table , two beds and sun protection.TV programs via astra,Stereo-radio with CD.
Rooms and amenities
Max. 3

persons

32

m²

Non-smokers only
not fully accessible
at ground level
kitchen
coffee machine
cooker (4)
egg cooker
freezing compartment
gas stove
kettle
kitchenette
microwave
oven
refrigerator
sandwich toaster
tea towels
living / dining room
CD player
cable/sat TV
fireplace
radio
bathroom
hair dryer
shower
toilet
towels
wash basin
bedroom
terrace
barbecue
garden furniture
grill
shared swimming pool
sun loungers
garden
general
Clotheshorse
WIFI-access
central heating
dryer
electric iron
hot water
internet-access
laundry service
private parking
Suited for
long-term holiday
non-smoking only
senior citizens
Additional amenities
The mobilhome has a lot space and an excelent comfort. Fitted kitchen, shower with glasdoor, upholstered furniture. Bedroom (Bed size 1,4 m x 2.00 m with orthopedic mattress) with fitted furniture. Healthy indoor climate- (ventilation/heating )-very important at the Azorean Islands. Property size 400m², terrace 11 m ², lawn 30m². Carpark with turn options by the house.
New: Swimming in our ecological, large pond (12X 12 m) with Mosteiros view. No chlorine.
Location and surroundings
The bus stop is only 100 m away ( buses hourly to Ponta Delgada) .
The center of Mosteiros is only 1.3 km away.You will find restaurants,shops,doctors,pharmacy,natural swimmingpools and a guarded beach. Many hiking trails starting from the house
Holiday house Mrs. Gisela Brettschneider
Ms. Gisela Brettschneider
Phone: +351 (0)296 - 915076
Spa im Thermalbad der Ferraria

Other

Rua Ilha Sabrina, Ginetes 9555-102
Health
Spa im Thermalbad der Ferraria

Other

Rua Ilha Sabrina, Ginetes 9555-102
Sights
Distances are given as the crow flies
Holiday house Mrs. Gisela Brettschneider Street View The position is not exactly shown.
Leisure time tips Mosteiros
Our leisure time tips:
bike rental
biking/ cycling
fishing
golf
hiking
horseback riding
hot springs
jogging
mountain hiking
open-air pool
paragliding
sailing
scuba diving
surfing
swimming
water park
water sports
windsurfing
Further activities
Specialities of the island:Whale-watching by boat,shiptours round the island.Diving in the ocean.Unique flora and wildlive.Beautiful parks.Europa´s biggest thermal bath,natural pools,hot spars,waterfalls and geysers.Visite the old teafacturies or the pottery-town lagoa.Or just feel the flair of Ponta Delgada.
Distances
(Railway station, Airport…)
airport 30 km
beach 1.5 km
bus stop 0.2 km
doctor 1.5 km
restaurant 1.3 km
shops 1.5 km
town center 1.5 km
water 0.45 km
Location
close to the beach
close to the water
Arrival
Direct flys from many cuntrys by SATA international and Air Berlin.Transfer is included.Rent a car by" Billiger Mietwagen.de".not allways necessary,Bus stop is only 100 m away and inexpensive.
Prices
Note: The price of 1st night / week includes a final cleaning fee of 30.- EUR.
Valid per property / With an occupancy up to 2 persons.
Surcharge per person 10.- EUR per night or 70.- EUR per week.
| Travel Date | Minimum Stay | 1st night | from 2nd night | 1st week | from 2nd week |
| --- | --- | --- | --- | --- | --- |
| 04/11/2012 - 31/12/2013 | 7 nights | 85.- EUR | 55.- EUR | 415.- EUR | 385.- EUR |
Additional Costs
Final cleaning
included in rental price
Renting Conditions
Rental deposit 50.- EUR
20% deposit of total rent with booking
Balance 4 weeks prior to arrival
earliest arrival at: 2:00 pm
Departure not later than: 10:00 am
Payment Methods
Availability Calendar - Holiday house Mrs. Gisela Brettschneider
Inquiries Contact the owner for availability:
Contact - Ms. Gisela Brettschneider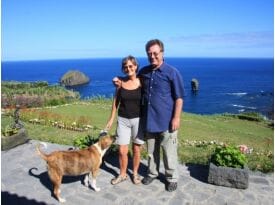 Enquiry and contact data of the landlord
Your landlord - Ms. Gisela Brettschneider
We speak English and German
Phone number of the landlord
Phone:

+351 296 - 915076
Listing number 25306 on Vacation-Apartments.com

Phone (mobile):

+351 9670 - 16149
The Holiday house has 28 ratings
Toller Urlaub

06/05/2013

by

K. D

from Zirl

Total Rating:

4.8

Amenities:

4

Price/Performance:

5

Service:

5

Surroundings:

5

Travel Date: April 2013
Travelled as: couple

Vor allem dank Gisela und Dirks Gastfreundschaft verbrachten wir sehr angenehme Tage auf Sao Miguel.
Das Mobilhome ist super ausgestattet und es fehlt an nichts. Nur ein kleiner Abzug, da es für uns zwei "breit Gebauten" etwas eng war.
Die Azoren sind ein tolles Urlaubsziel und das Mobilhome von Gisela und Dirk die ideale Unterkunft!

Katrin & Martin

Answer from Gisela Brettschneider

08/05/2013

Danke liebe Katrin & Martin,
es freut uns, das es Euch gut gefallen hat bei uns und wir dazu beitragen durften, Euren Urlaub zu verschönern. Wir freuen uns wenn Ihr "breit Gebauten" wiederkommt, in unser ideales, kuscheliges Mobilhome.
Alles Gute für Euch Beide wünschen Gisela und Dirk

Traumhaft schön...

31/03/2013

by

F. Gruber

from Petershagen

Total Rating:

5.0

Amenities:

5

Price/Performance:

5

Service:

5

Surroundings:

5

Travel Date: March 2013
Travelled as: single

Liebe Gisela, lieber Dirk,
nun war es schon der dritte Urlaub bei Euch auf der wunderschönen Insel Sao Miguel. Vielen Dank für die
Gastfreundschaft und die vielen unvergesslichen Stunden
bei leckerem Bier und Wein.
Nun geht der Alltag hier weiter und ich blicke mit Wehmut
zurück. Aber ich komme wieder...

...LG Frank

Answer from Gisela Brettschneider

02/04/2013

Hallo Frank,
danke für Deine liebe Bewertung. Auch für uns war die Zeit mit Dir eine schöne Abwechslung in unserem "Azoren-Alltag". Nicht mit Wehmut zurückschauen...mit Freude die schönen Erinnerungen pflegen! Bis bald, wir freuen uns auf ein Wiedersehen. Alles Gute wünschen Dir Gisela und Dirk

Erholung pur

03/03/2013

by

Ms. Misgajski

from Rügen

Total Rating:

5.0

Amenities:

5

Price/Performance:

5

Service:

5

Surroundings:

5

Travel Date: January 2013

Zu einer Zeit, wo in Deutschland noch Schnee lag, haben wir den Frühling vorgezogen. Der allabendliche Blick auf den Atlantik, die üppige Vegetation - auch schon zu dieser Jahreszeit -, gutes Wetter, herrliche Spaziergänge und die netten und hilfsbereiten Gastgeber haben den Urlaub zu einer wahren Erholung werden lassen.

Answer from Gisela Brettschneider

06/03/2013

Danke für die freundliche Bewertung. Es freut uns wie immer, das es Euch bei uns gefallen hat, Ihr Euch gut erholt habt und wir ein wenig dazu beitragen durften. Auch für uns wart Ihr sehr nette Gäste, die wir gerne wieder begrüßen würden. Wir hoffen die Erholung hält eine Weile an, damit noch ganz viele "Dreiohr-Hasen " auf der Welt verteilt werden. !

Alles Gute für Euch. Gisela und Dirk

Achtung Wiederholungstäter !!!!!!

15/11/2012

by

Mr. Christian

from Aschaffenburg

Total Rating:

5.0

Amenities:

5

Price/Performance:

5

Service:

5

Surroundings:

5

Travel Date: October 2012

Was soll man hier noch schreiben, fast alles wurde schon gesagt. Einfach der perfekte Ort, um die Seele baumeln zu lassen. Super Gastgeber, die jederzeit behilflich sind. Besonders praktisch ist die Gasheizung (nicht überall selbstverständlich), da es im Herbst abends auch etwas kühler werden kann. Freu mich Euch nächstes Jahr wiederzusehen, Ihr macht eure Sache super !!!!!!!

Answer from Gisela Brettschneider

17/11/2012

Danke, lieber "Wiederholungstäter" für Deine liebe Bewertung. Wir geben das Kompliment zurück, Du bist ein Super Gast und wir freuen uns auf Dich im nächsten Jahr, dann zum 3. Mal.
Alles Gute und bis dahin......

1 of 1 persons think this rating is helpful

Erholsamer Urlaub

12/11/2012

by

H. Hofstätter

from Graz

Total Rating:

5.0

Amenities:

5

Price/Performance:

5

Service:

5

Surroundings:

5

Travel Date: October 2012
Travelled as: couple

Die Buchung hat von Anfang an super funktioniert. Der Aufenthalt in Ihrem Haus war wirklich traumhaft schön.

Answer from Gisela Brettschneider

13/11/2012

Vielen Dank für die freundliche Bewertung. Freut uns, das Ihr von Anfang bis Ende mit allem sehr zufrieden wart.

Alles Gute und liebe Grüße an Helga und Norbert; senden nach Österreich
Gisela und Dirk