Holiday house Ramona
in holiday region Ijsselmeer - Andijk
Amenities
max. 5 persons
54 m²
1 bedroom,
2 children's rooms
Smoking permitted

Pets allowed

no information on accessibility

Wi-Fi available

Pool available
Prices
Offer
24/05 - 27/05/2013
from 114.- EUR per week
The Holiday house
Stand-alone vacation house directly at the ocean Ijsselmeer. The house has 3 dormitories, one open fireplace and completely equipped for 5 persons.
Rooms and amenities
Max. 5

persons

54

m²

Smoking permitted
permitted
at ground level
bedroom
bed linen
double bed (140X200)
children`s room
child bed
cot
double bed (120X200)
kitchen
coffee machine
cooker (4)
egg cooker
freezing compartment
gas stove
kettle
kitchenette
microwave
refrigerator
tea towels
living / dining room
cable/sat TV
fireplace
radio
stereo system
bathroom
shower
toilet
towels
wash basin
washing machine
storage room
garden
garden furniture
grill
shared swimming pool
table tennis
terrace
general
Clotheshorse
WIFI-access
central heating
dryer
hot water
private parking
Suited for
Family travel
handicapped
Holiday with your baby
Holiday with your dog
Holiday with your pet
long-term holiday
senior citizens
technicians (on request)
Location and surroundings
The historical cities Medemblik and Hoorn offer many excursion possibilities. Also you should not miss the Cheese-market in Alkmar.
Holiday house Ramona
Ms. Brigitte Licht
Phone: +49 (0)2361 - 652001
Spookje Wonderland

Sights

historische Altstadt von Hoorn

City

Hoorn

Trachtenumzug in Schagen

City

Schagen

Käsemarkt in Alkmar

City

Alkmaar
Sights
Spookje Wonderland

Sights

Insel Texel

Sights

Distance: 47 km

Texel
City
historische Altstadt von Hoorn

City

Distance: 15 km

Hoorn

Trachtenumzug in Schagen

City

Distance: 27 km

Schagen

Käsemarkt in Alkmar

City

Distance: 33 km

Alkmaar

Amsterdam

City

Distance: 47 km

Amsterdam
Distances are given as the crow flies
Holiday house Ramona Street View The position is not exactly shown.
Leisure time tips Ijsselmeer - Andijk
Our leisure time tips:
bike rental
biking/ cycling
bowling
fishing
golf
horseback riding
hot springs
jogging
miniature golf
sailing
scuba diving
surfing
swimming
tennis
water park
water sports
windsurfing
Further activities
The vacation park offers a free admission to the new swimming pool also with child basins, mineral water basins and massage.

Tennis courts, a crazy golf plant, a bicycle rental company, a stroking zoo, many playgrounds, restaurant, snack, are also in the park, bowling centre, a supermarket and a launderette.

In short, you will find everything you need for a great vacation!
Distances
(Railway station, Airport…)
airport 60 km
beach 1500 m
railway station 10 km
restaurant 150 m
shops 150 m
water 150 m
Location
close to the beach
close to the water
Prices
Note: The price of 1st night / week includes a final cleaning fee of 45.- EUR.
Valid per property / With an occupancy up to 4 persons.
Surcharge per person 5.- EUR per night.
Travel Date
Minimum Stay
1st night
from 2nd night
1st week
from 2nd week
04/01/2013 - 08/02/2013


low season

3 nights
--
--
254.- EUR
209.- EUR
08/02/2013 - 01/03/2013


low season

3 nights
--
--
303.- EUR
258.- EUR
01/03/2013 - 29/03/2013


mid season

3 nights
--
--
254.- EUR
209.- EUR
29/03/2013 - 05/04/2013


low season

3 nights
--
--
378.- EUR
333.- EUR
05/04/2013 - 26/04/2013
3 nights
--
--
303.- EUR
258.- EUR
26/04/2013 - 08/05/2013
3 nights
--
--
541.- EUR
496.- EUR
08/05/2013 - 17/05/2013
3 nights
--
--
541.- EUR
496.- EUR
17/05/2013 - 24/05/2013
3 nights
--
--
452.- EUR
407.- EUR
Offer
24/05/2013 - 27/05/2013 Offer
3 nights
--
--
159.- EUR
270.- EUR
114.- EUR
225.- EUR
27/05/2013 - 28/06/2013
3 nights
--
--
424.- EUR
379.- EUR
28/06/2013 - 12/07/2013
3 nights
--
--
503.- EUR
458.- EUR
12/07/2013 - 19/07/2013
3 nights
--
--
594.- EUR
549.- EUR
09/08/2013 - 16/08/2013
3 nights
--
--
594.- EUR
549.- EUR
16/08/2013 - 30/08/2013
3 nights
--
--
503.- EUR
458.- EUR
30/08/2013 - 20/09/2013
3 nights
--
--
424.- EUR
379.- EUR
20/09/2013 - 11/10/2013
3 nights
--
--
308.- EUR
263.- EUR
11/10/2013 - 25/10/2013
3 nights
--
--
424.- EUR
379.- EUR
25/10/2013 - 20/12/2013
3 nights
--
--
241.- EUR
196.- EUR
20/12/2013 - 06/01/2014
1 night
--
--
424.- EUR
379.- EUR
Additional Costs
Final cleaning
included in rental price
Tourist tax (adults)
per night 1.25 EUR
Tourist tax (children)
per night 1.25 EUR
electricity
inclusive
Gas
inclusive
Water
inclusive
heater
inclusive
air condition
inclusive
Additional Services
Pets
per night 5.- EUR
Bedlinen
per person 8.- EUR
Renting Conditions
Rental deposit 100.- EUR
50% deposit of total rent with booking
Balance 4 weeks prior to arrival
earliest arrival at: 3:00 pm
Departure not later than: 10:00 am
Payment Methods
credit card
bank transfer
cash card
Availability Calendar - Holiday house Ramona
May 2013
Mo
Tu
We
Th
Fr
Sa
Su
1
2
3
4
5
6
7
8
9
10
11
12
13
14
15
16
17
18
19
20
21
22
23
24
25
26
27
28
29
30
31
June 2013
Mo
Tu
We
Th
Fr
Sa
Su
1
2
3
4
5
6
7
8
9
10
11
12
13
14
15
16
17
18
19
20
21
22
23
24
25
26
27
28
29
30
July 2013
Mo
Tu
We
Th
Fr
Sa
Su
1
2
3
4
5
6
7
8
9
10
11
12
13
14
15
16
17
18
19
20
21
22
23
24
25
26
27
28
29
30
31
August 2013
Mo
Tu
We
Th
Fr
Sa
Su
1
2
3
4
5
6
7
8
9
10
11
12
13
14
15
16
17
18
19
20
21
22
23
24
25
26
27
28
29
30
31
Last updated: 22/05/2013
Contact - Ms. Brigitte Licht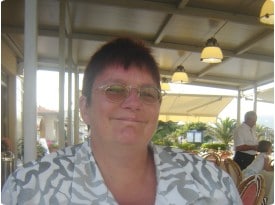 Enquiry and contact data of the landlord
Your landlord - Ms. Brigitte Licht
We speak English and German
Phone number of the landlord
Phone:

+49 (0)2361 - 652001
Listing number 2075 on Vacation-Apartments.com

Phone (mobile):

+49 (0)163 - 3039845

Fax:

+49 (0)2361 - 3039844
The Holiday house has 5 ratings
Peter Scholland

30/08/2012

by

P. Scholland

from Gelsenkirchen

Total Rating:

5.0

Amenities:

5

Price/Performance:

5

Service:

5

Surroundings:

5

Travel Date: August 2012
Travelled as: family
Type of holiday: other vacation

Guten Morgen Frau Licht ,

wir sind aus Andijk gut erholt zurück. Wir waren mit der Ferienwohnung und der Anlage sehr zufrieden, denn besonders für Kinder war's ein kleines Paradies, und wir Fahrrad-Freunde kamen auch nicht zu kurz.

Die 5 Tage in Andijk taten uns also sehr gut, eigentlich nur etwas zu kurz, denn das Wetter wurde auch von Tag zu Tag schöner.

Also alles bestens
und ganz liebe Grüsse
Peter, Ania und Dominik

Answer from Brigitte Licht

31/08/2012

Danke für ihre Bewertung. Ich freue mich, dass es ihnen so gut gefallen, wenn sie nochmal Lust auf Erholung haben, würde ich mich freuern sie nochmal begrüßen zudürfen. Alles Gute für die kommende urlaubsfreie Zeit.
Liebe Grüße aus Recklinghausen
Brigitte Licht

1 of 1 persons think this rating is helpful

Den Frühling erleben

07/04/2012

by

I. Schulz

from Neuenhagen bei Berlin

Total Rating:

5.0

Amenities:

5

Price/Performance:

5

Service:

5

Surroundings:

5

Travel Date: March 2012
Travelled as: family
Type of holiday: other vacation

Liebe Frau Licht,
leider ist der schöne Urlaub wieder vorbei und wir sind wieder gut und mit vielen tollen Erlebnissen gut nach Hause gekommen. Haben gut nach Andjik dank Ihrer Wegbeschreibung gefunden. Bungalow war gut und alles vorhanden, was man braucht. Jeden morgen und abends hatten wir lieben Besuch von den Hühnern und Kaninchen. War super niedlich. Die Anlage ist okay und man kann auch einkaufen und essen gehen. Werde die Anlage und Ihren Bungalow an Bekannte (mit Kindern) weiterempfehlen. Ist ja alles super geeignet für Kinder. Es war jedenfalls ein schöner Kurzurlaub und den beiden älteren Damen hat es gefallen. Wir wünschen Ihnen und Ihrer Familie ein frohes Osterfest. Viele Gruesse
Ingo und Familie

Answer from Brigitte Licht

31/08/2012

Liebe Familie Schulz
Ein weiter Weg von Berlin nach Holland, deshalb freue ich mich besonders, dass es ihnen in unserem Park gefallen hat. Vielleicht darf ich sie ja mal wieder bei uns begrüßen.
Liebe Grüße von Recklinghausen nach Berlin

Willst du einmal raus aus dem Trott

13/04/2011

by

F. Schauer

from Marl

Total Rating:

5.0

Amenities:

5

Price/Performance:

5

Service:

5

Surroundings:

5

Travel Date: March 2011
Travelled as: couple
Type of holiday: other vacation

das gelingt dir hier auf jeden Fall, besonders zu dieser Jahreszeit. Es war sehr ruhig im Park, da nicht so viele Urlauber dort. Das Haus ist sehr gepflegt, der Kamin ist ein besonderes Erlebnis, es war fast schon zu warm. Natürlich ein guts Gefühl, denn draußen war es doch bitter kalt. Frau Licht hatte nicht zu viel versprochen, wir haben uns rundum wohl gefühlt.

Bis bald Vanessa und Frank

Answer from Brigitte Licht

31/08/2012

Ich danke für ihre erneute Anfrage, leider konnte ich Ihnen diesmal nicht helfen.
Vielleicht klappt es ja beim nächsten Mal
Liebe Grüße aus Recklinghausen
Brigitte Licht

Herrlicher Winterurlaub

01/02/2010

by

schmidt

from Düsseldorf

Total Rating:

4.0

Amenities:

4

Price/Performance:

4

Service:

4

Surroundings:

4

Morgens steht man auf und alles ist verschneit, ein wundervoller Anblick.
Im Haus mollig warm, abends am offenen Kamin träumen. was will man mehr. Wir haben uns sehr wohl gefülht in ihrem schönen Häuschen.

6 of 11 persons think this rating is helpful

Ferien 2007 in Andijk

26/08/2007

by

Merten

from Berlin

Total Rating:

5.0

Amenities:

5

Price/Performance:

5

Service:

5

Surroundings:

5

Es war eine super schöne Woche, es ist alles da was man braucht. Der Deich liegt nur 100m entfernt und abends ist es eine wunderschöne Stimmung, wenn man auf dem Deich steht und die Sonne untergehen sieht.
Wir waren zu dritt (2 Erwachsene und 1 Kind) und es war ausreichend Platz. Für fünf Erwachsene könnte es etwas eng werden, aber mit 3 Kindern wäre es vollkommen in Ordnung.

Das einzigste was ich empfehlen würde, es sollte jeder einen Einweggrill mitnehmen, denn der dort ist nicht so "lecker".

Der Ferienpark insgesamt ist absolut Zentral gelegen. Wir waren im Walibi World, in Hoorn, in Den Oever (am großen Deich) und in Amsterdam. Wir sind max. eine Stunde mit dem Auto unterwegs gewesen um diese Ziele zu erreichen. Auch empfehlenswert ist Alkmaar, aber das haben wir nicht mehr geschafft, dafür war die Woche zu kurz.

Mein Fazit: Absolut empfehlenswert für junge Familien oder das gesetztere Alter.

Wir überlegen ob wir nächstes Jahr wieder kommen.

Liebe Grüße aus Berlin

11 of 16 persons think this rating is helpful