Holiday house "Zora"
in holiday region Porec
Amenities
max. 6 persons
98 m²
2 bedrooms
Smoking permitted

Pets allowed

not fully accessible Holiday house

Washing machine

Television available
Prices
from 35.- EUR per Night
from 245.- EUR per Week
The Holiday house
The vacation home "Zora" in the house of the Matosevic Family is in the small idyllic village Dolinji Jakici. For nature lover, a place to dream, where you can recover marvelous from everyday stress. You won`t find the peace, you experience there, everywhere. Above all it`s difficult to find a place, where also your domestic animal is welcome. The hosts are very friendly and very obliging. For guests who want to spend their holidays alone, "vacation apartment Zora" is the right place! The Matosevics will provide you any advice and what ever is necessary to make your holidays as beautiful as possible.
Special features
If you`d like to spend the winter over holidays in Istrien, then you are at the correct address. In our vacation apartment is heated with a tiled stove, which heats the whole dwelling.
Rooms and amenities
Max. 6

persons

98

m²

Smoking permitted
permitted
not fully accessible
living room
Ground floor · 20 m²
2 bedrooms
Ground floor · 16 m²
2 double beds (160 x 200)
air condition
bed linen
sofa bed (090 x 200)
kitchen
Ground floor · 10 m²
coffee machine
cooker (4)
crockery
electric kitchen stove
freezing compartment
kitchenette
oven
refrigerator
tea towels
bathroom
Ground floor · 8 m²
bathtub
bidet
make-up mirror
shower
toilet
towels
wash basin
washing machine
dining room
Ground floor · 15 m²
terrace
20 m²
barbecue
garden furniture
sunshade
general
Clotheshorse
hot water
lawn
private parking
Suited for
Family travel
handicapped
Holiday with your baby
Holiday with your dog
Holiday with your horse (on request)
Holiday with your pet
long-term holiday
senior citizens
technicians (on request)
Additional amenities
In the kitchen there is additionally a wood furnace and in the dining-room a tiled stove, for vacation in the winter.
Location and surroundings
The environment of Doljni Jakici is untouched nature, nearly already like in a fairy tale. Unfortunately one cannot show it on pictures, but one must have seen it. Wine gardens, forests, as far as the eye can see! Come and visit us! We look forward to meet you in Croatia!
Holiday house "Zora"
Ms. Zora Matosevic
Phone: +385 (0)52 - 460417
Sights
Porec

Sights

Distance: 12 km

Rovinj

Sights

Distance: 21 km

Pula

Sights

Distance: 38 km

Umag

Sights

Distance: 40 km
Distances are given as the crow flies
Holiday house "Zora" Street View The position is not exactly shown.
Leisure time tips Porec
Our leisure time tips:
badminton
bike rental
biking/ cycling
bowling
fishing
golf
gym
hiking
horseback riding
hot springs
jogging
miniature golf
mountain hiking
open-air pool
paragliding
sailing
scuba diving
squash
swimming
tennis
water sports
Further activities
It can happen in no case that you get bored in your spare time, with these many offers.
Distances
(Railway station, Airport…)
airport 38 km
beach 6 km
railway station 12 km
restaurant 2.5 km
shops 1.5 km
water 6 km
Arrival
Salzburg Villach Karawankentunnel Ljubljana Koper Croatian border Kastel, direction Umag Pula (motorway of Istri Y) take the exit Sv.Lovrec Medaki, direction Sv.Lovrec, turn right at the sign Dolinji Jakici, drive into the village, first house on the right side!
Prices
Valid per property / With an occupancy up to 4 persons.
Surcharge per person 5.- - 8.- EUR per night or 35.- - 56.- EUR per week.
Travel Date
Minimum Stay
per Night
per Week
01/01/2013 - 02/03/2013


low season

3 nights
35.- EUR
245.- EUR
02/03/2013 - 18/05/2013


low season

3 nights
38.- EUR
266.- EUR
18/05/2013 - 29/06/2013


mid season

3 nights
50.- EUR
350.- EUR
29/06/2013 - 20/07/2013


high season

7 nights
63.- EUR
441.- EUR
20/07/2013 - 24/08/2013


high season

7 nights
65.- EUR
455.- EUR
24/08/2013 - 14/09/2013


mid season

7 nights
56.- EUR
392.- EUR
14/09/2013 - 30/10/2013
3 nights
40.- EUR
280.- EUR
Additional Costs
Final cleaning
inclusive
Tourist tax (adults)
per night 0.90 EUR
Tourist tax (children)
per night 0.50 EUR
Additional Services
Pets
per night 5.- EUR
Bedlinen
inclusive
Towels
inclusive
Renting Conditions
Rental deposit 0.- EUR
10% deposit of total rent with booking
Balance at arrival
Arrival day: on agreement, earliest arrival at: on agreement
Departure not later than: 10:00 am
Payment Methods
Availability Calendar - Holiday house "Zora"
May 2013
Mo
Tu
We
Th
Fr
Sa
Su
1
2
3
4
5
6
7
8
9
10
11
12
13
14
15
16
17
18
19
20
21
22
23
24
25
26
27
28
29
30
31
June 2013
Mo
Tu
We
Th
Fr
Sa
Su
1
2
3
4
5
6
7
8
9
10
11
12
13
14
15
16
17
18
19
20
21
22
23
24
25
26
27
28
29
30
July 2013
Mo
Tu
We
Th
Fr
Sa
Su
1
2
3
4
5
6
7
8
9
10
11
12
13
14
15
16
17
18
19
20
21
22
23
24
25
26
27
28
29
30
31
August 2013
Mo
Tu
We
Th
Fr
Sa
Su
1
2
3
4
5
6
7
8
9
10
11
12
13
14
15
16
17
18
19
20
21
22
23
24
25
26
27
28
29
30
31
Last updated: 25/03/2013
Contact - Ms. Zora Matosevic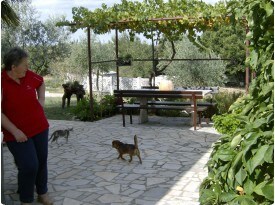 Enquiry and contact data of the landlord
Your landlord - Ms. Zora Matosevic
We speak Croatian, English, French, German, Italian and Serbian
Phone number of the landlord
Phone:

+385 (0)52 - 460417
Listing number 19118 on Vacation-Apartments.com

Phone (mobile):

+385 (0)91 - 5228849
Availability
0.00h - 24,00h
The Holiday house has 2 ratings
Herrlich ruhig, bis dass der Hahn dich wecket!

05/09/2012

by

C. Szabo

from Traiskirchen

Total Rating:

4.5

Amenities:

4

Price/Performance:

5

Service:

5

Surroundings:

4

Travel Date: August 2012
Travelled as: couple
Type of holiday: beach vacation

Die Lage ist wirklich traumhaft, das Haus zweckmäßig eingerichtet, die Besitzerin sehr freundlich. Wir haben die Ruhe genossen, nur: ab 4 Uhr Früh muss man sich auf mind. fünf Hähne einstellen, die einen abwechselnd wecken wollen. ach ja, und da sind dann noch die Hunde ... Irgendwann hört man Hähne und Hunde nicht mehr :-) Wir können die Location auf alle Fälle weiter empfehlen. Mit dem Auto ist man in 15 Min. in Vsrar wo es alles gibt und einen Riesen Supermarkt (Konzum!) mit allem gibt.

Ein Erholungsurlaub der ganz besonderen Art

11/07/2012

by

Family Weiß

from St. Johann in Tirol

Total Rating:

5.0

Amenities:

5

Price/Performance:

5

Service:

5

Surroundings:

5

Travel Date: June 2012
Travelled as: senior travellers
Type of holiday: in the countryside

Abseits vom Massentourismus in einer idyllischen Landschaft fanden wir Ruhe und Entspannung. Die Gastfreundschaft und Tierliebe von Zora und Miro Matosevic ist einmalig und unvergleichlich. Wir haben die Beschaulichkeit sehr geschätzt und das gute Essen und Trinken. Wir bedanken uns bei Familie Matosevic für den schönen Urlaub Anfang Juli 2012 mit herzlichen Grüßen Günter, Irene und Skippy aus St. Johann in Tirol

Daleko od masovnog turizma u idiličnom krajoliku, otkrili smo mir i opuštanje. Gostoljubivost i ljubav prema životinjama Zora i Miro Matošević je jedinstven i neusporediv. Mi smo cijenjen u miru i dobru hranu i piće. Zahvaljujemo obitelji Matošević za prekrasan odmor u početkom srpnja 2012 s najboljim željama Gunter, Irene i Skippy iz St. Johann u Tirolu

1 of 1 persons think this rating is helpful