Holiday apartment Rur-Partie
in holiday region Eifel (Monschau)
Amenities
max. 4 persons
65 m²
1 bedroom,
1 living / bedroom
Smoking permitted

Pets allowed

not fully accessible Holiday apartment

Television available
Prices
from 55.- EUR per Night
from 300.- EUR per Week
Contact
Family Beckmann & Familie Kals
The Holiday apartment
The 17th century half-timbered house with its holiday apartment "Rur-Partie" is located directly at the river Rur opposite of the market square of the idyllic historic old town of Monschau.
The enclosed self-catering vacation apartment has character and comfort such as SAT-TV, wood burning stove for cosy winter evenings, central heating, oak parkett flooring, half-timbered walls- and ceilings, wod kitchen with bar and nice views on the river Rur and historic buildings of Monschau including its castle and monastery.
The vacation apartment is in the 3rd floor and attic and is suited for max 4 guests - large open plan living room kitchen and bathroom in the 3rd floor and one double bed room in the attic.
Rooms and amenities
Max. 4

persons

65

m²

Smoking permitted
permitted
not fully accessible
Staircase
Location and surroundings
The holdiay appartment is ideally located to explore the tight alleys of Monschau and beautiful surrounding countryside.
The little shops of the historic old town, cafes, pubs, restaurants, a small supermarket and bakery are all less then one minute walk away.
Monschau is surrounded by a picturesque countryside with plenty of possibilities for walking, hiking or cycling.
The nice university city Aachen is also only 30 km away.
Holiday apartment Rur-Partie
Family Beckmann & Familie Kals
Phone: +49 (0)2472 - 3699
Maastricht

City

Maastricht
City
Aachen

City

Distance: 27 km

Aachen

Maastricht

City

Distance: 51 km

Maastricht

Köln

City

Distance: 67 km

Köln

Brüssel

City

Distance: 137 km

Brüssel
Distances are given as the crow flies
Holiday apartment Rur-Partie Street View 52156 Monschau
Leisure time tips Eifel (Monschau)
Our leisure time tips:
bike rental
biking/ cycling
cross-country skiing
downhill skiing
fishing
hiking
horseback riding
jogging
sledding
swimming
tennis
water park
Distances
(Railway station, Airport…)
airport 100 km
railway station 30 km
restaurant 0.1 km
shops 0.4 km
water 0.1 km
Arrival
A detailed description is on the booking confirmation and at our homepage.
Prices
Valid per property / With an occupancy up to 4 persons.
Travel Date
Minimum Stay
per Night
per Week
01/10/2011 - 21/10/2011


mid season

2 nights
55.- EUR
330.- EUR
22/10/2011 - 06/11/2011


high season

2 nights
55.- EUR
360.- EUR
07/11/2011 - 25/11/2011


low season

2 nights
55.- EUR
300.- EUR
26/11/2011 - 22/12/2011


mid season

2 nights
55.- EUR
330.- EUR
23/12/2011 - 08/01/2012


high season

2 nights
55.- EUR
360.- EUR
09/01/2012 - 31/03/2012


low season

2 nights
55.- EUR
300.- EUR
01/04/2012 - 15/04/2012


high season

2 nights
55.- EUR
360.- EUR
16/04/2012 - 06/07/2012


mid season

2 nights
55.- EUR
330.- EUR
07/07/2012 - 21/08/2012


high season

2 nights
55.- EUR
360.- EUR
22/08/2012 - 05/10/2012


mid season

2 nights
55.- EUR
330.- EUR
Additional Services
Bedlinen
per person 5.- EUR
Renting Conditions
no rental deposit
50% deposit of total rent with booking
Balance at arrival
Arrival day: every day, earliest arrival at: 5:00 pm
Departure not later than: 10:00 am
Payment Methods
Availability Calendar - Holiday apartment Rur-Partie
May 2013
Mo
Tu
We
Th
Fr
Sa
Su
1
2
3
4
5
6
7
8
9
10
11
12
13
14
15
16
17
18
19
20
21
22
23
24
25
26
27
28
29
30
31
June 2013
Mo
Tu
We
Th
Fr
Sa
Su
1
2
3
4
5
6
7
8
9
10
11
12
13
14
15
16
17
18
19
20
21
22
23
24
25
26
27
28
29
30
July 2013
Mo
Tu
We
Th
Fr
Sa
Su
1
2
3
4
5
6
7
8
9
10
11
12
13
14
15
16
17
18
19
20
21
22
23
24
25
26
27
28
29
30
31
August 2013
Mo
Tu
We
Th
Fr
Sa
Su
1
2
3
4
5
6
7
8
9
10
11
12
13
14
15
16
17
18
19
20
21
22
23
24
25
26
27
28
29
30
31
Last updated: 22/05/2013
Contact - Family Beckmann & Familie Kals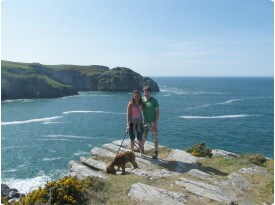 Enquiry and contact data of the landlords
Your landlords - Family Beckmann & Familie Kals
We speak English and German
Phone number of the landlords
Phone:

+49 (0)2472 - 3699
Listing number 18913 on Vacation-Apartments.com

Phone (mobile):

+49 (0)160 - 99304415

Fax:

+49 (0)12120 - 150329
The Holiday apartment has 3 ratings
Perfekt!

14/04/2013

by

A. Witteler

from Essen

Total Rating:

5.0

Amenities:

5

Price/Performance:

5

Service:

5

Surroundings:

5

Travel Date: March 2013
Travelled as: couple

Wir haben uns in dem gemütlichen, liebevoll ausgebauten Fachwerk-traum-haus rundherum wohlgefühlt. Am schönen Holzofen kann man auch einen gemütlichen Abend verbringen... obwohl Monschau auch leckere Restaurants zu bieten hat. Vielen Dank, Familie Beckmann... und vielen Dank, Fam. Kals, die An- und Abreise sowie Hilfe zwischendurch ;-) unkompliziert möglich machte! Wir kommen gerne einmal wieder.

Answer from Beckmann & Familie Kals

16/04/2013

Vielen Dank Frau Witteler fuer Ihre positive Bewertung. Wir freuen uns sehr, dass es Ihnen so gut gefallen hat und hoffen, dass sie uns in Zukunft wieder einmal besuchen kommen.

Einfach sehr sehr schön...

13/11/2012

by

M. Baur

from Offenbach am Main

Total Rating:

5.0

Amenities:

5

Price/Performance:

5

Service:

5

Surroundings:

5

Travel Date: November 2012
Travelled as: couple

Alles ist rundum gelungen; die liebevolle Sanierung des Fachwerkhauses, die Ausstattung/Details; die sehr schnelle und freundliche Abwicklung der Buchung; im Ort ist die Zeit stehen geblieben und wir hatten viel zu wenig Zeit, um alles zu entdecken; wir würden gerne wiederkommen und denken, dass es eine bessere Unterkunft nicht geben kann. Vielen Dank.

Answer from Beckmann & Familie Kals

14/11/2012

Vielen Dank fuer Ihre sehr positive Bewertung und den netten Kommentar. Wir freuen uns sehr, dass es Ihnen so gut gefallen hat.

1 of 1 persons think this rating is helpful

Traumhaftes Wochenende

18/12/2011

by

U. Kunst

from Hückehoven

Total Rating:

5.0

Amenities:

5

Price/Performance:

5

Service:

5

Surroundings:

5

Travel Date: December 2011
Travelled as: couple
Type of holiday: other vacation

Eine wunderschöne romantische Wohnung in absoluter Toplage. Wir waren an einem Weihnachtsmarktwochenende in der Wohnung und hatten somit keine langen Wege. Die Wohnung ist sehr gemütlich und bietet das zum Städtchen passende Ambiente. Wohnen im alten (kernsanierten) Fachwerkhaus. Die Ausstattung ist sehr gut und die Wohnung sehr sauber. Wir können sie besten Gewissens weiterempfehlen.

Answer from Beckmann & Familie Kals

20/12/2011

Vielen Dank Herr Kunst, fuer die positive Bewertung. Wir sind froh, dass es Ihnen so gut gefallen hat und hoffen, dass wir sie in Zukunft wieder als Gast begruessen duerfen.

Viele Gruesse,
Michael Beckmann

2 of 2 persons think this rating is helpful