Holiday house Evangelio mit traumhaft schönen Meeresblick
in holiday region Rethymno,Prinos, Kreta
Amenities
max. 6 persons
100 m²
2 bedrooms
Smoking permitted

Pets upon request

not fully accessible Holiday house

Pool available

Washing machine
Prices
from 60.- EUR per Night
from 420.- EUR per Week
Contact
Company Ferienhaus Evangelio im Prinos Resort - Family Kokkinos
The Holiday house
Each holiday house is approx. 100qm largely and has a fantastically beautiful sea view to approx. the 300m removes convenient sea with sand beach.

There is in each case 2 houses, which are by generous stairs from each other separated. The houses have elevated equipment. It participates a garden, a pool with couch surface and a grill corner.

In the Parterre is the living room with fire-place and SAT-TV, installation kitchen, dining-room, guest WC. In the 1st stick are 2 bedrooms as well as a bath with bath tub and washing machine. Before all areas are generous terraces. The 4 houses are appropriate only approx. for 300m remotely from the sea.
Special features
It can, if desired with breakfast are booked.
Rooms and amenities
Max. 6

persons

100

m²

Smoking permitted
not fully accessible
Staircase
Location and surroundings
The holiday house is appropriate for ca.10 km before Rethymnon. It is in the center of the two cities of Chania and Heraklion.

The sea with beautiful sand beach is only ca.300m remotely, as well as there are taverns at the sea. In the environment there is the following Sehenswürddigkeiten:

Mili ravine, ImbrosSchlucht, monastery Arkadi, Preveli, Melidoni caves, Maleme, Elafonissi, Zaros, Matala, Saturday market in Mires with Zaros, Rouvas ravine, Asi Gonia (the water falls) Kourna lake (the only fresh water lake on Crete).
Holiday house Evangelio mit traumhaft schönen Meeresblick
Company Ferienhaus Evangelio im Prinos Resort - Family Kokkinos
Phone: +30 (0)28310 - 72414
City
Rethymnon

City

Distance: 13 km

Rethymnon

Heraklion

City

Distance: 47 km

Heraklion

Chania

City

Distance: 57 km

Chania
Distances are given as the crow flies
Holiday house Evangelio mit traumhaft schönen Meeresblick Street View 74052 Prinos
Leisure time tips Rethymno,Prinos, Kreta
Our leisure time tips:
bike rental
biking/ cycling
fishing
gym
hiking
jogging
miniature golf
mountaineering
paragliding
scuba diving
swimming
tennis
water sports
Distances
(Railway station, Airport…)
airport 60 km
beach 400 m
bus stop 400 m
doctor 1 km
ferry port 12 km
night life 8 km
restaurant 400 m
shops 200 m
water 400 m
Location
close to the beach
close to the water
Arrival
mit the passenger car with the ferry or with the airplane
Prices
Valid per property / With an occupancy up to 5 persons.
Travel Date
Minimum Stay
per Night
per Week
01/11/2012 - 28/02/2013


low season

3 nights
60.- EUR
420.- EUR
01/03/2013 - 31/03/2013


low season

3 nights
70.- EUR
490.- EUR
01/04/2013 - 30/04/2013


low season

3 nights
85.- EUR
595.- EUR
01/05/2013 - 31/05/2013


mid season

3 nights
85.- EUR
595.- EUR
01/06/2013 - 31/08/2013


high season

3 nights
115.- EUR
805.- EUR
01/09/2013 - 31/10/2013


mid season

3 nights
85.- EUR
595.- EUR
01/11/2013 - 31/03/2014
1 night
70.- EUR
490.- EUR
Additional Costs
Final cleaning
inclusive
Tourist tax (adults)
inclusive
Tourist tax (children)
inclusive
Additional Services
Pets
inclusive
Bedlinen
inclusive
Towels
inclusive
Renting Conditions
no rental deposit
20% deposit of total rent with booking
Balance 4 weeks prior to arrival
Arrival day: every day, earliest arrival at: on agreement
Departure not later than: on agreement
Payment Methods
Availability Calendar - Holiday house Evangelio mit traumhaft schönen Meeresblick
Inquiries Contact the owner for availability:
Contact - Company Ferienhaus Evangelio im Prinos Resort - Family Kokkinos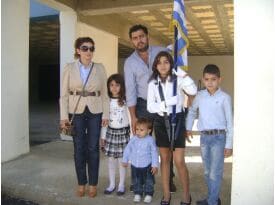 Enquiry and contact data of the landlords
Your landlords - Company Ferienhaus Evangelio im Prinos Resort - Family Kokkinos
We speak English, German and Greek
Phone number of the landlords
Phone:

+30 (0)28310 - 72414
Listing number 17036 on Vacation-Apartments.com

Phone (mobile):

+30 (0)69 - 48608791

Fax:

+30 (0)28310 - 72414
The Holiday house has 16 ratings
Erholsame Herbstferien in angenehmer Umgebung

13/11/2012

by

M. Seidel

from Oldenburg

Total Rating:

5.0

Amenities:

5

Price/Performance:

5

Service:

5

Surroundings:

5

Travel Date: October 2012
Travelled as: family
Type of holiday: family vacation

Hallo Familie Kokkinos,
vielen Dank für die schöne Zeit bei Euch!
Viele Grüße
Lea, Erik, Sandra und Markus

Betreff Sommerferien 2012

08/10/2012

by

E. Anita

from Schweiz

Total Rating:

5.0

Amenities:

5

Price/Performance:

5

Service:

5

Surroundings:

5

Travel Date: July 2012
Travelled as: family
Type of holiday: family vacation

Fügen Sie einen Kommentar hinzu Hallo Ihr Lieben. Mit vielen Tränen mussten wir euch nach unseren Ferien verlassen. Es war wunderschön bei euch: Das Essen von Evangelio und Manolis, der Raki von Giannis :-), das Frühstücksbuffet einfach alles. Wir hatten zwei wundervolle Wochen in einem perfekt eingerichteten Haus mit einem super Pool. Das Cafenion ist ebenfalls sehr empfehlenswert für ein Frappe oder ein Nachtessen. Auch für die Kinder wurde bestens gesorgt und mit den Kindern von euch haben wir uns auch super verstanden. Ihr werdet uns alle sehr fehlen und wir kommen sicher wieder einmal. Nochmals herzlichen Dank für alles und machts gut!

Schöner Urlaub in wunderschöner Anlage

06/09/2012

by

D. Müller

from bei Limbach-Oberfrohna

Total Rating:

5.0

Amenities:

5

Price/Performance:

5

Service:

5

Surroundings:

5

Travel Date: July 2012
Travelled as: family with teenagers
Type of holiday: family vacation

Liebe Familie Kokkinos,

gern denken wir an den Urlaub in Eurer Ferienanlage zurück. Während der gesamten Urlaubszeit haben wir uns sehr wohl gefühlt und die Zeit genossen. Selten sind wir so freundlich und herzlich aufgenommen worden.

An die Abende in Eurem Kafenion und Euer leckeres Essen werden wir uns genau so gern erinnern, wie an den Grillabend in der Anlage. Alles in allem ein perfekter Urlaub.

Viele liebe Grüße

Katy, Dirk und Lukas

Ein ruhiger Urlaub im schoenen Haus

28/08/2012

by

T. Grin

from Russland, St. Pete

Total Rating:

5.0

Amenities:

5

Price/Performance:

5

Service:

5

Surroundings:

5

Travel Date: August 2012
Travelled as: family with teenagers
Type of holiday: family vacation

Sehr geehrte Familie Kokkinos,
vielen Dank fuer einen gemuetlichen Urlaub in Ihrem schoenen Haus! Moderne Raeume, schoene Blumen und Meeresblick von Balkons, leckere Kueche - das alles war fuer uns eine tolle Moeglichkeit, unseren 2-woechigen Urlaub mit all Spass zu verbringen.
Noch einmal vielen Dank und alles Gute!
Einen herzlichen Dank auch an Gerlinde fuer ihre Hilfe und Tipps.

Mit freundlichen Gruessen,
Tatiana Grin und Ko

Sehr zu empfehlen!

25/08/2012

by

Ms. Bonitz

from Erzgebirge

Total Rating:

5.0

Amenities:

5

Price/Performance:

5

Service:

5

Surroundings:

5

Travel Date: July 2012
Travelled as: family

Liebe Evangelio, lieber Giannis, liebe Kinder,
wir haben einen wunderschönen, erholsamen Urlaub bei euch verlebt-herzlichen Dank für eure liebevolle Betreuung und die äußerst leckere Verpflegung bei gemeinsamen Grillabenden oder in eurem Kafenion. Wir wünschen euch alles Gute sowie weiterhin viel Kraft und Erfolg!

Ein Urlaub in den Ferienhäusern Evangelio ist empfehlenswert, die Ausstattung ist sehr gut und gepflegt, die Betreuung durch die Vermieter herzlich und familiär. Unbedingt sollte man die hausgemachten Produkte Olivenöl, Wein und Raki sowie ein Essen im Kafenion der Familie probieren.

Leckerer haben wir auf Kreta nicht gegessen. Ein Mietwagen für die Dauer des Aufenthalts ist empfehlenswert. Vielen Dank auch den Nachbarinnen Andrea u. Gerlinde.

Liebe Grüße Kay, Dana, Tom und Laura